DyMark Industries: The Search for the Perfect Fabricator
PeddiNews: Issue 62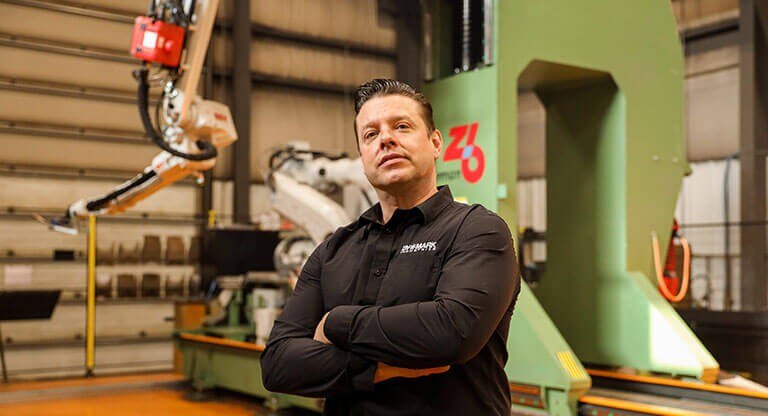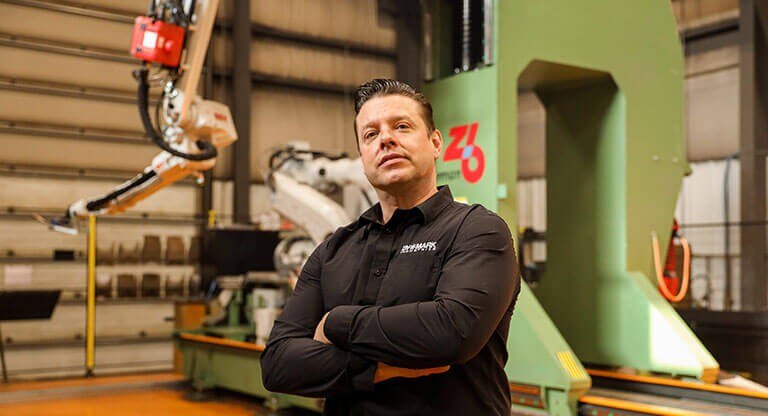 Every employer has the same thought, "Does the right person for the job exist?" Picture this: an employee who never misses a shift, never takes a coffee break, gladly works weekend OT and never asks for a raise. Ever found one of those? If so, you are extremely lucky to have found such a rare species. The "human factor" involves each of us, and it is challenging to find skilled and dedicated employees to fit our criteria.
Now suppose you are located in Saskatoon, Saskatchewan - Canada. A great city, but miles from industry suppliers and steel mills, with a limited labor pool. DyMark has been lucky enough to secure strikingly skilled fitters, welders and operators, yet the challenge to double shop output still exists. In their search, DyMark came to find that the right "person" for the job can be found at Peddinghaus Corporation. The PeddiAssembler robotic welding system provided the solution to DyMark's goals. A perfect complement to their talented workforce, the PeddiAssembler works hand in hand to double the shop's feed, generating better business opportunities and providing job security for skilled welders and operators.
With a smile, Marc Paquette, President of DyMark, says, "DyMark has advanced since its inception in 2003 by always pursuing better technology and implementing it in the way we manufacture our goods. We never get too comfortable with the day-to-day of doing things. We stand out from other fabricators because of our aggressive and continuous passion to improve and become leaders in the industry."
A Perfect First Impression
When it comes to first impressions, you only get one shot. Marc was skeptical at first, but the PeddiAssembler captured his attention at a FABTECH show. "When I first heard about the PeddiAssembler, I had watched a promotional video sent to me through Peddinghaus email. I was very skeptical about the performance of this machine and what it could actually do. So, I went to FABTECH Chicago to view the machine in person. To my surprise, it did everything that Peddinghaus promised and more. For every little question I had, Peddinghaus had the answer. I was quite impressed."
"Our methods of operation before the PeddiAssembler were somewhat advanced and semi-automatic. We were always looking for ways to improve the ebbs and flows of our workload. The PeddiAssembler gives us the flexibility to ramp production up and down without having to hire new employees. It has allowed us to more comfortably bid on bigger jobs without having to worry about the employment side of things."
The DyMark Brand
As a fabricator and an erector DyMark offers some valuable insight into the day-to-day operations of an onsite construction project. They know the importance of perfect fit-up in the field and the pitfalls of being unprepared. Located in Saskatoon, DyMark has learned from experience that the smallest shop fabrication error is compounded during field erection, costing the company dollars by the minute. Crane costs, trucking costs, housing/living costs and similar overhead expenses multiply with each fab shop mistake. "We are a well-rounded, turnkey company. We fabricate and erect our own steel so we know how important it is for material to fit up the first time. We know how much it can impact a company when things don't fit together in the field. Fit-up issues are very costly, which is why we take fabrication so seriously. That's a key component of our reputation."
"We've branded DyMark steel, and people want our product because of the quality. If you're a customer and you buy a piece of DyMark steel, you know that it is going to fit together. That's the DyMark brand."
On the Money, Every Beam, Every Time
Intelligent robotic fabrication and full automation are making their mark on the steel industry. The PeddiAssembler robotic welding system acts as a fab shop booster for assembling full beams and columns. Above anything, DyMark's favorite PeddiAssembler feature stands in its quality control abilities. "There are many different aspects I like about the PeddiAssembler, but the key factor that pushed me to purchase this machine is quality control. The communication between the welding robot and the handling robot is such impressive technology."
Marc continues, "From the start, the scanning system quality checks and identifies each part to make sure they are correct. The welding robot then scans and profiles the member that those parts belong to. The technology is so advanced that it can detect the smallest error in the parts before it even starts to put the pieces together. The robots are constantly talking to each other and making minor adjustments as they go, so that was a big selling point for us."
"The first program we ever ran on the PeddiAssembler was a heavy structural job 'up north' in remote Canada, and it did very well. It hit all the marks that we wanted it to. The machine quickly allowed our welders to focus on smaller, more complex weldments while the PeddiAssembler handles all columns and beams."
"The machine doesn't simply grab a piece and place it where it thinks it needs to be placed, but the handling robot is actually working with the welding robot to make micro adjustments as the piece is being built. It's almost unbelievable the way it can do that."
A No-Brainer Purchase
In Marc Paquette's own words​:
• "Adding the PeddiAssembler to our production at DyMark was a no-brainer. The machine does not make a mistake. The members and material that it puts out are on the money every time, we haven't seen a single issue."
• "We justified the investment of the PeddiAssembler by how quickly and accurately it can assemble beams and columns. Typically you're averaging 1-2 minutes per part on a beam regardless of the weight which might take a fabricator 3-4 hours to place in position using a crane. With the PeddiAssembler, you load the program and if it tells you that it's going to take 50 minutes, it takes exactly 50 minutes. Not 2-3 hours, 50 minutes flat. So when you think about that multiplied by how many people it can keep fed down the line, you're looking at up to 5 guys per shift that the PeddiAssembler can feed."
• "The PeddiAssembler has made a significant difference in our day-to-day operation. We've seen up to 50% savings in some of the recent fabrications we've done. The way it can pile up and assemble structural steel that is ready for our welders is extremely valuable to us."
• "A huge benefit of our PeddiAssembler is that we don't have to make major hires for big jobs anymore. We have about 50 guys in the shop running at full capacity today. Before the PeddiAssembler, we would have to hire an extra 20-25 people on large jobs just to maintain shop flow. At $50/hour in employee costs, that's an easy half a million that comes off our profit margin. And even then you never really know the quality of their work."
• "The PeddiAssembler benefits our customers the most because they're getting a high quality product every time. The material that we're pushing through our shop now is right on the money with 100% repeatability. We don't have to worry about human error with tape measures and chalk lines."
• "We currently fabricate structural steel for the commercial, industrial and agricultural industries; the PeddiAssembler dynamically expands our market potential. Heavier, more complex structural work is now within our scope."
• "I shake my head thinking of the old ways we used to do things."
ProFit = Profit
The PeddiAssembler robotic welding machine utilizes a proprietary software system so user-friendly that DyMark employees rave about its simplicity.
"The operators have had 0 complaints about the PeddiAssembler ProFit Software, it's so easy to use. You simply load the file and the program pops up. From here, the operators can go in and tweak the welds and tacks as they see fit. Then they can tell the robot where to grab and where not to grab and, basically, the machine does the rest. When the machine detects a potential conflict, it stops to ask the operator if they want to continue. From there, the operator is able to say yes or say no and make adjustments. ProFit is some pretty awesome technology."
Maintaining Industry-Leading Status
According to Marc, "We're always changing and always trying to stay ahead of the curve. Nowadays, if fabricators don't embrace the technology ripple, they're going to be left in the dark ages. Our strategy to remain successful is to embrace new technology so we can continue to lead the industry. That is why we're the first in Western Canada to get a PeddiAssembler. I'm sure once word gets out about all the technological advancements it has given us, many fabricators will follow suit."
Trusted employees are hard to find and harder to retain, but even the PeddiAssembler can't replace the DyMark welding team. Today, they are producing more than ever, with more freedom to lend their expertise to higher-profile jobs. While they sleep, the PeddiAssembler runs circles around repeatable beams and columns. Marc notes, "The PeddiAssembler shows up to work every day and works whatever program you tell it to work. You don't have to train it, you just tell it to do something once and it's accurately welding every component every time. You tell it to quality check the parts, it quality checks the parts. It's like the perfect employee that never needs to break for coffee."
Enter Today for a Chance to Win
FREE

Machinery

Gift cards and other Peddinghaus merchandise included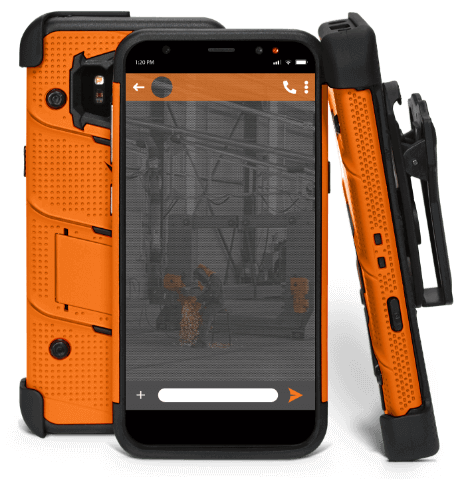 46331 mobile
TEXT KEYWORD
TO
46331
WINNER
Normal text message rates apply. Text "STOP" to opt out. Text "HELP" for help. Up to 3 msgs / month. Terms ‌h‌t‌t‌p‌s‌:‌/‌/‌w‌w‌w‌.‌p‌e‌d‌d‌i‌n‌g‌h‌a‌u‌s‌.‌c‌o‌m‌/‌t‌e‌r‌m‌s‌/‌1‌