Georgia Fabricator Stifles Shop Bottlenecks with the PeddiBot-1200
PeddiNews: Rodgers Metal Craft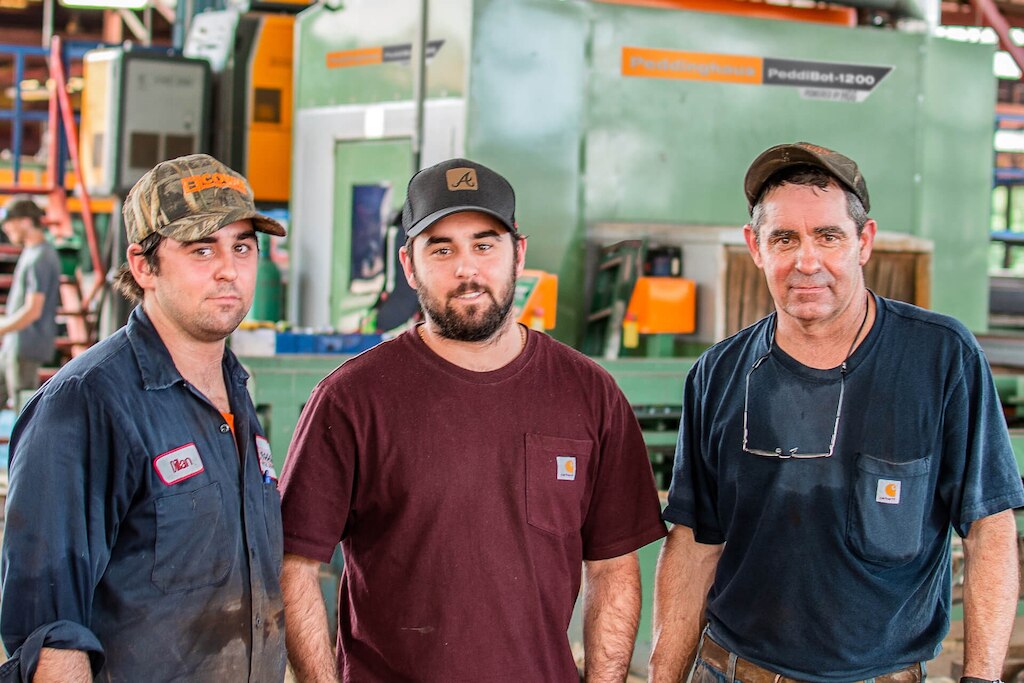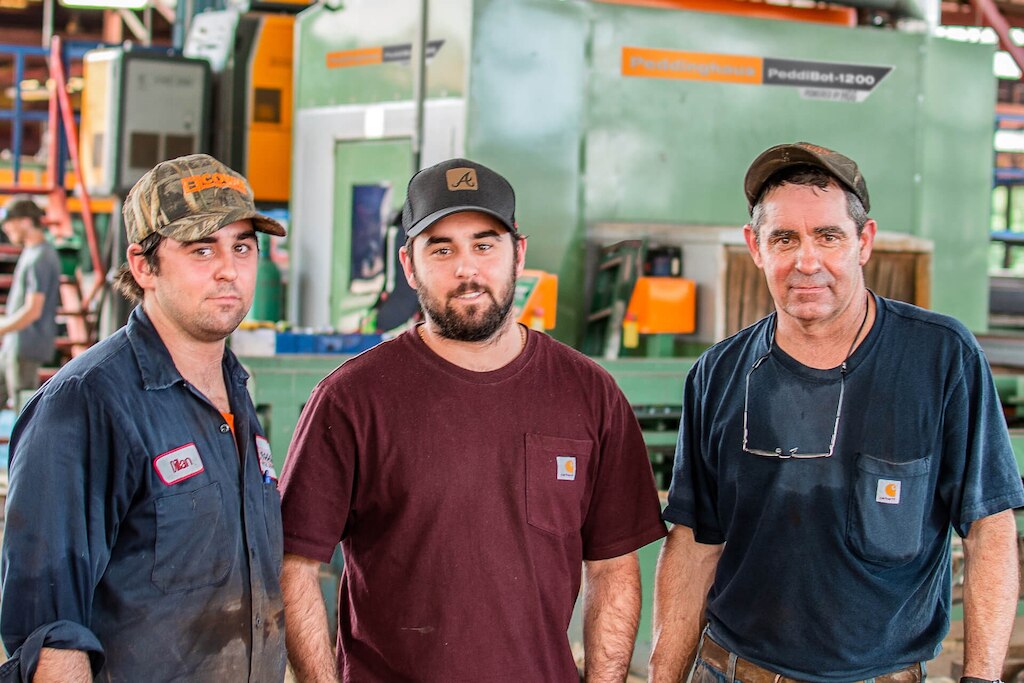 Fortson, Georgia may be difficult to locate on a map of the United States but the rural, southern town is where Rodgers Metal Craft, Inc. has managed to become a major player within the structural steel industry. Serving the southeastern region of the United States, Rodgers is a leading heavy structural and miscellaneous steel fabricator. Flourishing through their 50th year, Rodgers Metal Craft originated in 1969 with two brothers, Curtis and James Rodgers. Today, their sons, John and Greg Rodgers, oversee the continually expanding facility as John's sons, Dillon and Drew, learn the trade.
John and Greg's first investment in Peddinghaus CNC, naturally, was an Advantage beam drill line and 1250-510 straight cut band saw tandem system. After having used other types of production equipment, they quickly discovered the durability, efficiency and accuracy of the Peddinghaus equipment. Pleased with their initial purchase, Rodgers continued their Peddinghaus partnership with an array of CNC technology including an additional drill line, two double miter band saws, an angle line and a high-speed plate processor.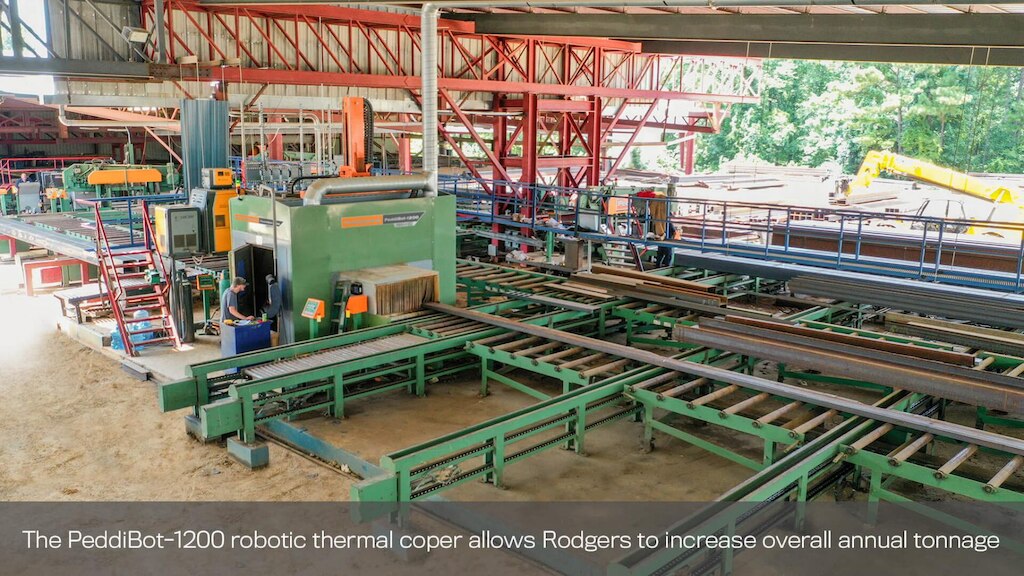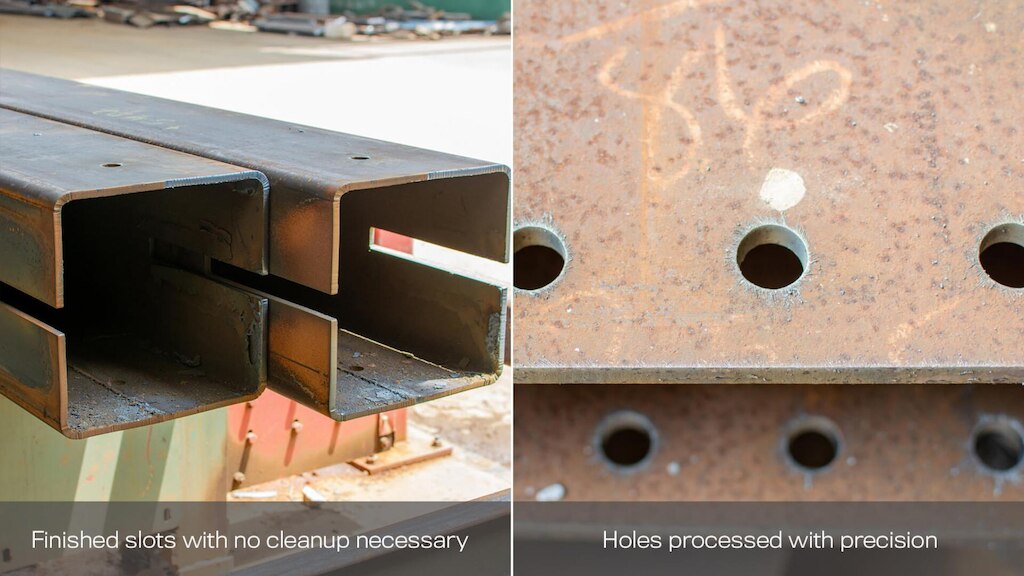 "We went from using hammers and center punches, mag drills and lead drills to processing everything with Peddinghaus CNC equipment," states John Rodgers, President of Rodgers Metal Craft. "Really and truly, you can't come into our plant and find a center punch anymore because each and every hole is processed automatically."
The Next Phase in Rodgers CNC
At FABTECH Chicago in 2017, Peddinghaus unleashed the PeddiBot-1200 robotic thermal coper to the steel fabrication world. Expressing a need to automate manual hand torch methods, Rodgers Metal Craft invested in the PeddiBot-1200. The team at Rodgers has developed a solid understanding of the need for automation to remain competitive in the ever-evolving structural steel industry. John Rodgers has seen the evolution of CNC firsthand at the company, and recalls on times when bottlenecks hindered production.

"When we would manually prep beams for full pen welds we didn't always get smooth or precise cuts." John continues, "The PeddiBot-1200 takes that out of it. It's always right on the mark and you always get a nice smooth cut with no cleanup behind it."
Putting the PeddiBot-1200 to the Test
Not only is Rodgers suited to utilize the machine in their daily shop production, but they are able to push its limits in what it can really do. With the ability to operate burning and integrated layout marking functions on both top and bottom flange and web, Rodgers is able to minimize overhead and human error associated with manual torch and layout processes.

"Before the PeddiBot-1200, everything was done manually with a hand torch. If we had large bevels on thick flanges, we did them with a track torch." John explains, "There's not much that we don't run on the PeddiBot-1200. We run channels, beams, tubes and pretty much everything through it. We've used it to slot tube columns on all of our tube braces and we run all of our stair channels through it to get precise notches and copes."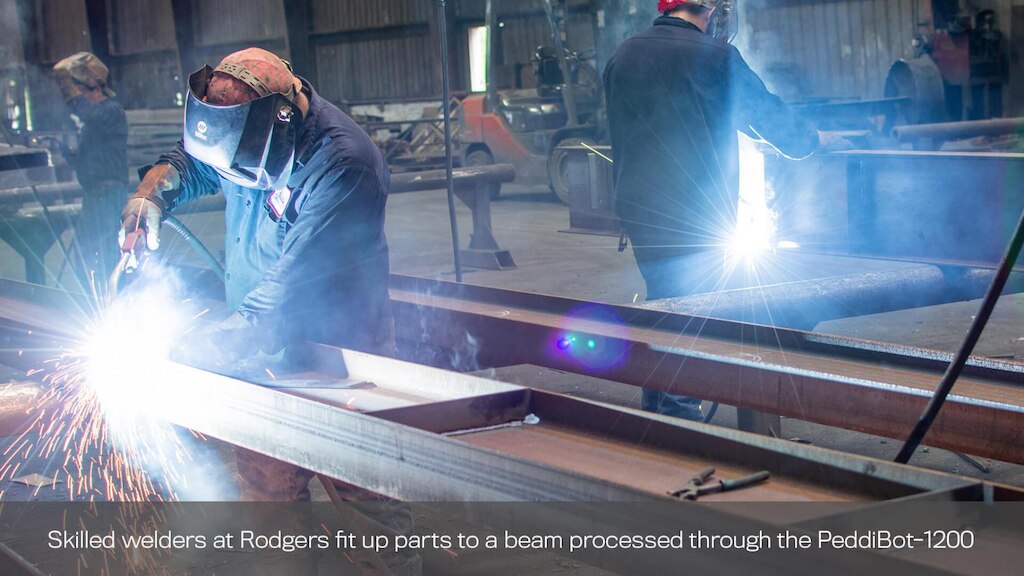 The PeddiBot-1200 rules production timetables by keeping the measuring process as unobtrusive as possible to the overall program being operated. John states with pride, "A huge benefit of the machine for us is the speed that we get out of it. We can put projects through the PeddiBot-1200 that never have to go through the shop for manual processing. Because of that, we're producing more through the shop now than ever before without having to hold up production for manual methods."

The PeddiBot-1200 continues to play an integral role in feeding the fabrication shop at Rodgers. Providing a constant material backlog of already-processed beams for the weld team to fit up each day, the most skilled welders can attend to the complex projects they specialize in. While a single operator runs precision cuts on the PeddiBot-1200, fab shop personnel are able to focus on assembling the end-product.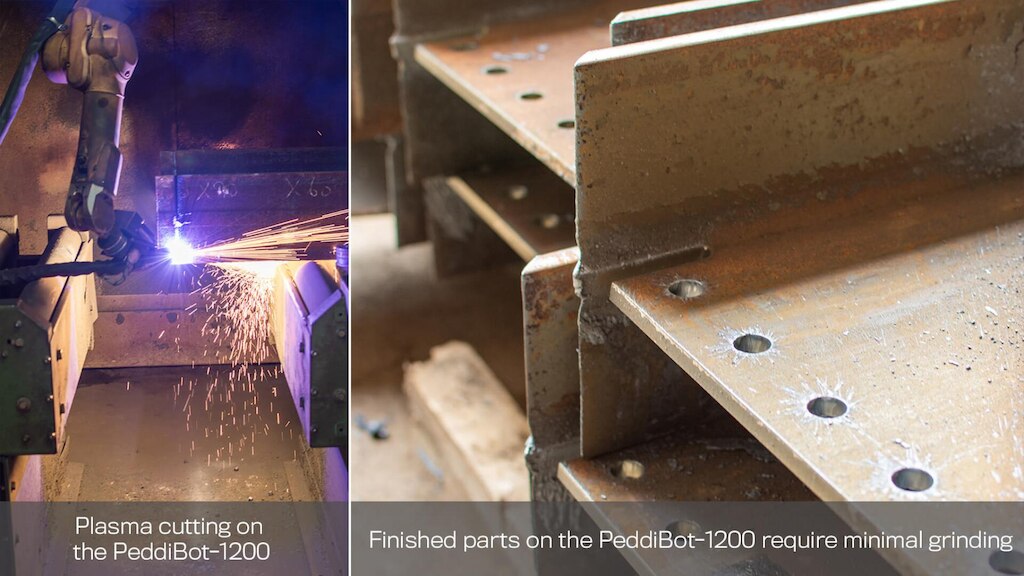 Growing with Confidence and Support
"When a machine is down, the whole shop feels the impact. It's all about the support you get, and Peddinghaus understands when it is a critical time for us. They always pull together what we need to get us back up and running."

Now the busiest they've ever been, the team at Rodgers confidently cranks a whopping 50,000 tons of steel out of the shop each year. "All-in-all, we're highly satisfied with the PeddiBot-1200. It's taken some getting used to because we've never had a robot in our plant before, and it's still fairly new to the fabrication industry. There were some challenges on both sides, but Peddinghaus didn't stop until we were really comfortable with it. It has made a tremendous change in our production."

To learn more about the PeddiBot-1200 robotic plasma cutting and coping machine, visit www.peddinghaus.com/peddibot
Enter Today for a Chance to Win
FREE

Machinery

Gift cards and other Peddinghaus merchandise included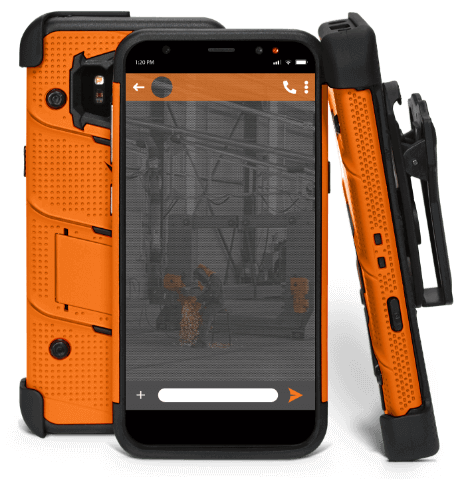 46331 mobile
TEXT KEYWORD
TO
46331
WINNER
Normal text message rates apply. Text "STOP" to opt out. Text "HELP" for help. Up to 3 msgs / month. Terms ‌h‌t‌t‌p‌s‌:‌/‌/‌w‌w‌w‌.‌p‌e‌d‌d‌i‌n‌g‌h‌a‌u‌s‌.‌c‌o‌m‌/‌t‌e‌r‌m‌s‌/‌1‌