Kansas City Structural: Heavy Member Specialists
PeddiNews: Issue 68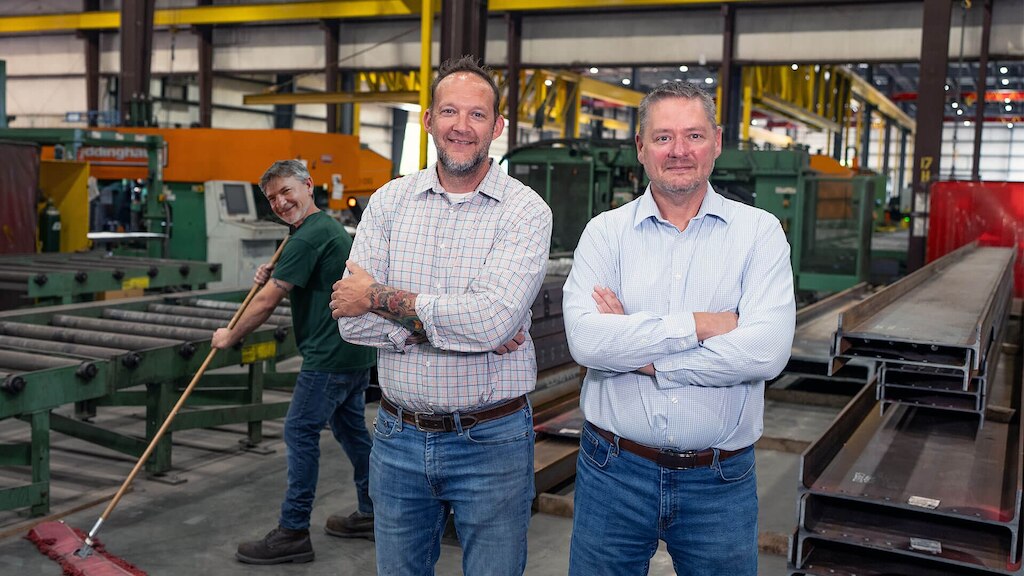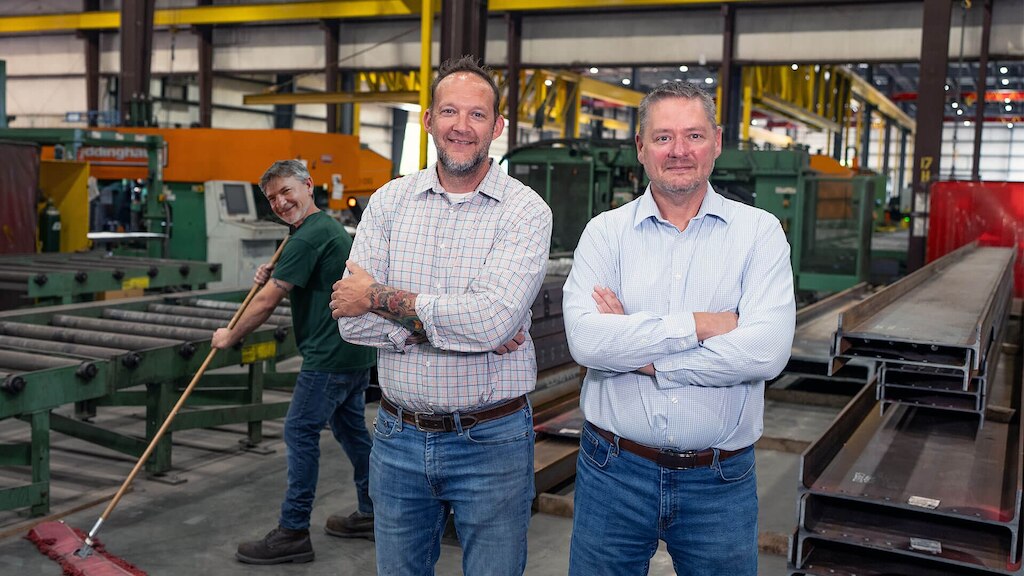 30 years ago, Kansas City Structural emerged in a modest 40x40' workshop, marking the humble beginning of a journey to unfold. Led by Owner and Founder, Tim Olah, and the support of a few employees, the company embarked on a mission to bridge the gap between steel fabricators and steel erectors, fixing the mistakes of other fabricators by meticulously reworking steel members to correct welding errors and misplaced holes.
As the business gained traction, the snowball of success began, compelling the team at Kansas City Structural to nurture its growth. The company's roots provided a firm foundation upon which their passion for steel fabrication blossomed. Since then, Kansas City Structural has flourished into a symbol of expertise and craftsmanship, revered within the industry for their exceptional work.
Kansas City Structural, as the parent company, established Kansas City Steel Werx in 2016 to expand their presence in the miscellaneous metals market and provide sub-fabrication services to Kansas City Structural. With a shared mission and a dedicated team, Kansas City Steel Werx plays a vital role in expanding the capabilities and services of the overall organization.
Tim made the strategic decision to bring Mike Bennett on board as COO of Kansas City Structural, and Todd Raak on board as COO of Kansas City Steel Werx to spearhead their operations. Todd and Mike have formed a dynamic leadership team that drives the success and growth of both Kansas City Steel Werx and Kansas City Structural today.
Embracing Technological Advancements
Kansas City Structural has been at the forefront of adopting technological advancements in the steel fabrication industry. With the acquisition of the first Peddinghaus BDL-1250/9B drill line in 2010, the company experienced a significant boost in productivity. Tim, who initially had reservations about investing in advanced machinery, quickly realized the simplicity and efficiency of the Peddinghaus equipment.
He tells us, "At the time, I was the designated operator of the new Peddinghaus drill line. I was in no way technologically savvy, so I was worried that it would be a very complicated machine to run. As it turned out, it was so easy to run that I bought another one. That's what really put me on to automation." The user-friendly nature of the machine inspired further investments in automation, including a BDL-1250/9D drill line, HSFDB-C plate processor, Ocean Liberator coper, PeddiBlast shot blaster and two robotic copers.
Dedication to Complex Craftsmanship
Kansas City Structural has always embraced the allure of large-scale projects that push the boundaries of steel construction. Their specialty lies in tackling heavy, complex members that demand creativity and a thinking-outside-the-box approach. While some fabricators may prefer the efficiency of small-scale projects with repetitive parts, Kansas City Structural thrives on crafting structures that leave a lasting impression such as arenas, stadiums, towers and everything that's heavy.
Tim emphasizes Kansas City Structural's proficiency in handling intricate tasks, including the challenging W14x730 category that many fabricators struggle to process. "Some fabricators can't do a W14x730 at all. They can't drill it, they can't cut it, it's just too big. But we can," he proudly declares. The Crest project in Baton Rouge, Louisiana put Kansas City Structural's expertise and problem-solving skills to the ultimate test. Tim became highly intrigued when a colleague approached him with a proposition to undertake an ambitious endeavor on a project that had been plagued by budgetary constraints for three long years. Though the project seemed financially unfeasible, Kansas City Structural rose to the challenge.
Originally designed as a complex truss system with a 180' (55 M) cantilever and a three-sided twisted configuration, every single piece of the structure was unique, making it a formidable venture. Determined to find a solution, they transformed the design into a skeleton plate structure, significantly reducing the cost from the initial estimate of $14 million to an impressive $3 million. Utilizing the full range of their Peddinghaus machinery, they even took charge of the erection process, showcasing their wide range of capabilities.
Innovative Workflow Sets New Standards in Material Handling
Efficiency in material flow is a critical component of any steel fabricator's operation. With a unique approach, Kansas City Structural optimized the layout of their machinery to ensure a smooth and rapid movement of material through the main facility, cutting their handling down by over 50%. Wide flange beams are received on the west side of the Peddinghaus system, while tubes, pipes, angle and flat stock are received on the east side. Once a piece of material has been loaded onto the transfer conveyors, it has the freedom to seamlessly transition between different stages of production as needed.
Depending on the project requirements, material is advanced either to the BDL-1250/9D, BDL-1250/9B or PeddiBlast. Tim explains, "Material can flow in either direction, north or south. While some projects require blasting, others may not. In cases where blasting is not needed, material is advanced directly to the drill lines. If blasting is necessary, that process begins as soon as the material hits the conveyor. Blasted material is advanced to the drill lines last." This flexible arrangement allows Kansas City Structural to accommodate blasting requirements without impeding the speed of other operations.
The Power of Automation
Tim credits automation as the driving force behind Kansas City Structural's impressive growth trajectory. He commends Peddinghaus for simplifying the path to automation and making it accessible to fabricators, "Our growth is directly connected to the purchase of the Peddinghaus drill lines. Everything just kept getting done faster and faster."
By harnessing the power of automation, Kansas City Structural has not only accelerated their workflow, but also elevated the level of precision and complexity they can achieve in their projects. As they continue to push boundaries, embrace technology and nurture their passion for steel fabrication, they remain steadfast in their commitment to fueling dreams with steel.
Enter Today for a Chance to Win
FREE

Machinery

Gift cards and other Peddinghaus merchandise included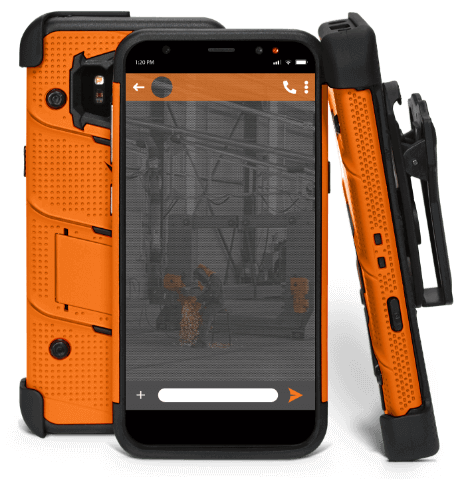 46331 mobile
TEXT KEYWORD
TO
46331
WINNER
Normal text message rates apply. Text "STOP" to opt out. Text "HELP" for help. Up to 3 msgs / month. Terms ‌h‌t‌t‌p‌s‌:‌/‌/‌w‌w‌w‌.‌p‌e‌d‌d‌i‌n‌g‌h‌a‌u‌s‌.‌c‌o‌m‌/‌t‌e‌r‌m‌s‌/‌1‌