Preassemble Profit Through Robotic Production
PeddiNews: Northwest Steel Fab, Inc.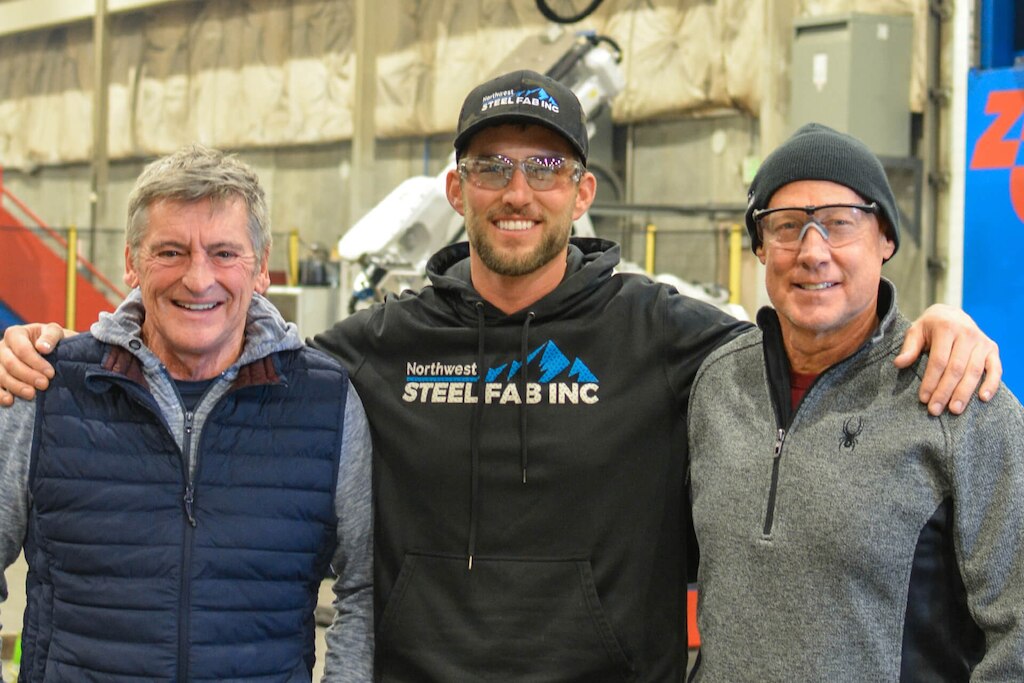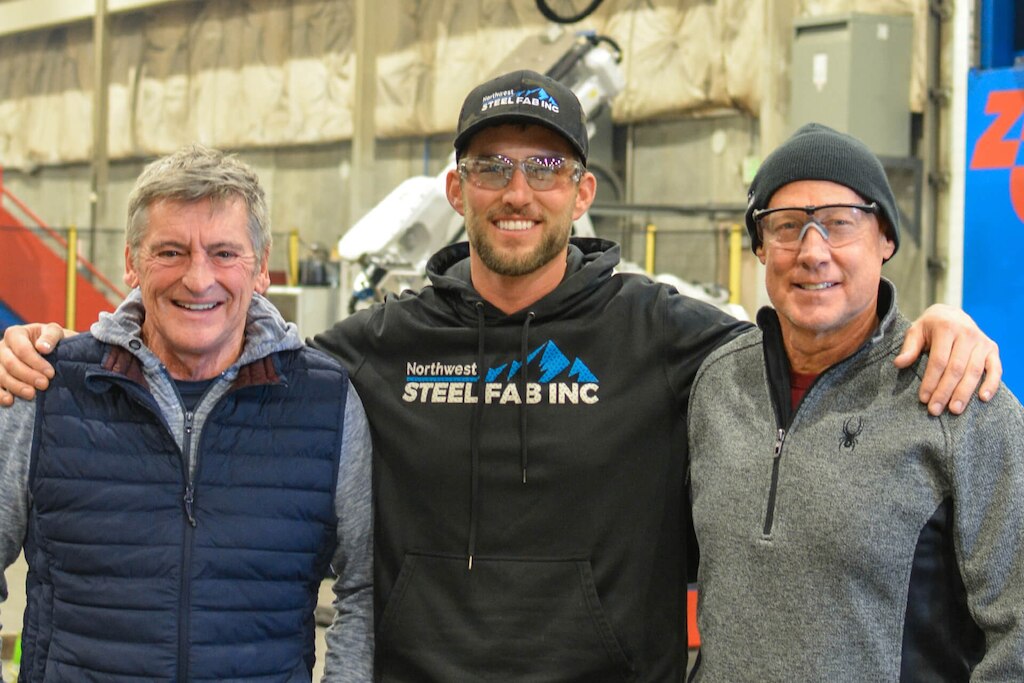 In 2010, the American Welding Society (AWS) reported a shortage of 200,000 welders in the United States and projected by 2026 that number will nearly double at 372,000. Fast forward to 2020, the industry is now predicting a shortage of 400,000 welders by 2024. One thing is constant and growing, the industry-wide shortage of skilled workers.
The AWS further noted approximately 500,000 skilled welders are, on average, in their mid-50s and will soon retire at a more rapid rate than replacements can fill the vacancies. When assembly and welding can take up as much as half of the time to process a structural steel beam, what's a fabrication firm to do?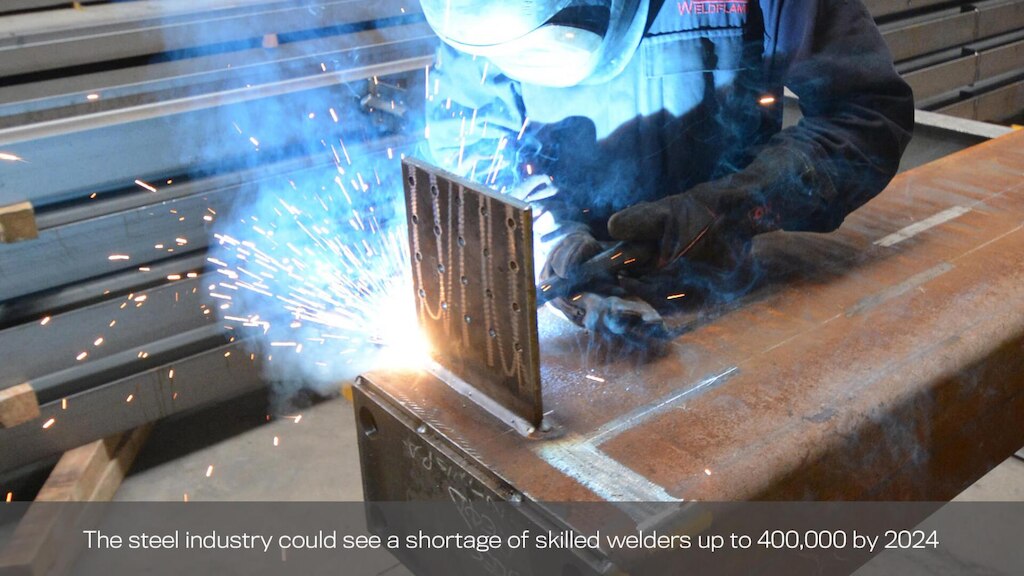 Northwest Steel Fab, Inc. in Deer Park, Washington, has proudly introduced the first robotic steel beam assembler within their fabrication shop.
A One-Stop-Shop in the Northwest
From humble beginnings in 1994, Northwest Steel began as most family businesses do, in a small miscellaneous metalworking facility. In 2008, the dreaded recession hit the United States economy and while some business owners closed up shop, Northwest Steel went all in. By building a new shop in a new city with new technology, the team at Northwest created an opportunity not only for future expansion, but for automation. "Our goal is to build a one-stop fab shop," explains Joshua James, Project Manager and Estimator at Northwest Steel. "It starts with the detailing, we have a full-on detail department. Our most demanding jobs, we do in-house. We foresee problems before they happen and we try to mitigate that. We're able to quickly execute some very large projects very fast and we meet the deadlines of our directors."
Northwest Steel primarily serves the heavy industrial market in their region. From large commercial buildings to small schools and hydroelectric facilities, there's not much they can't do. "We have a lot of laydown area in the backyard, we've got a lot of room for expansion and we've got a lot of storage area. So this is just the beginning of our storm of automation and what's coming next."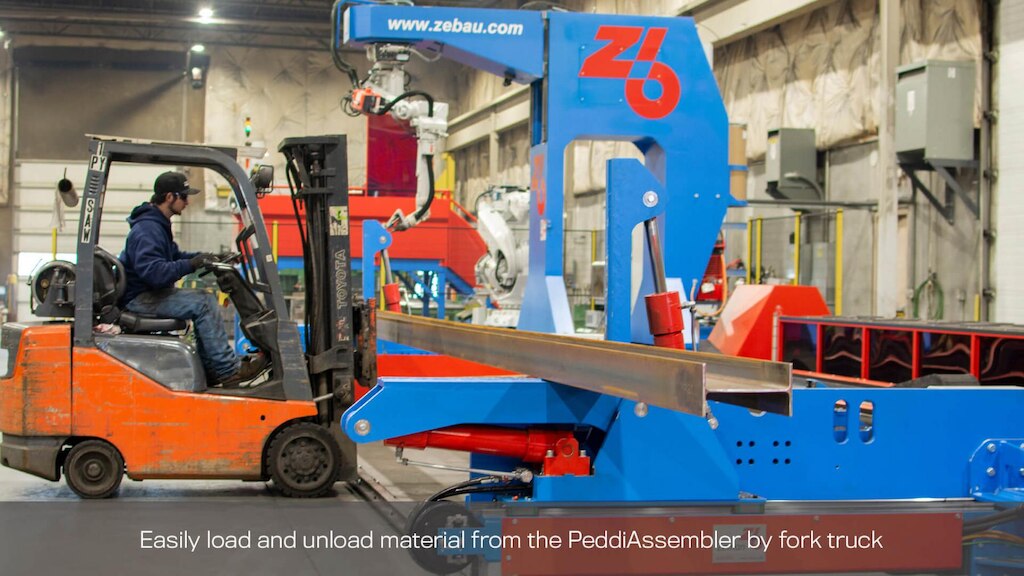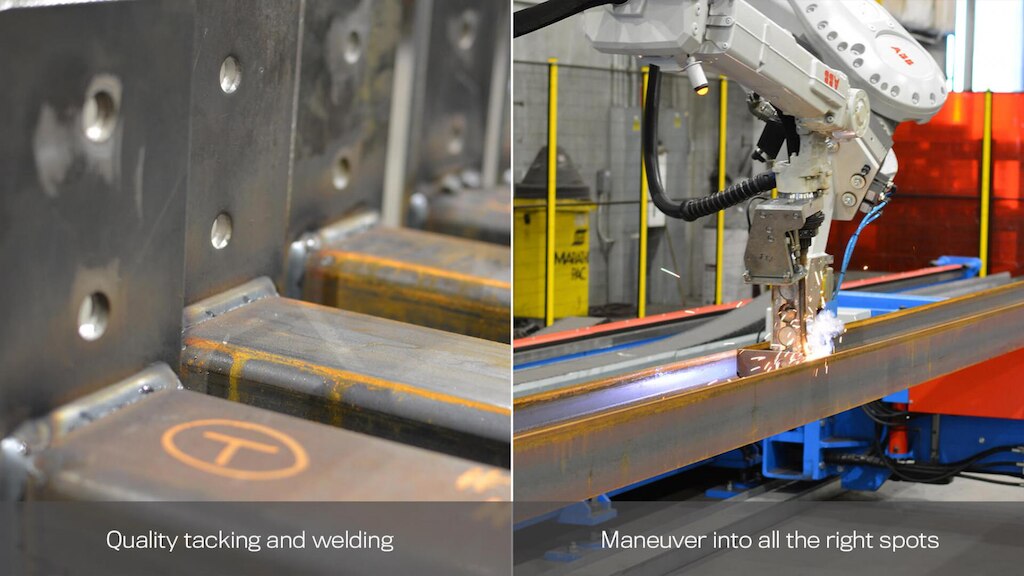 Meet the PeddiAssembler
When it comes to the final stage of steel production, quality and accuracy is critical. The PeddiAssembler, powered by Zeman, is designed for robotic assembly and welding of "ready to erect" steel structures. With the ability to perform tack welds and finish welds 360° around material, the PeddiAssembler is capable of increasing annual throughput while reducing labor costs.
By running repetitive beam processes through the PeddiAssembler, manual welders are able focus their energy on the more complex and intricate projects that require their expertise.
Equipped with a measurement system to detect positional dimensions and tolerances of the material, this intelligent system consists of a laser scanner for measuring each part. Once all pieces are scanned, parts are positioned by a magnet on the head of the handling robot and oriented to their weld location. The footprint of the PeddiAssembler is nearly identical to a typical shop welding station and can be seemingly placed in line with current shop processes and attribute to easy integration with no interruption in shop flow.
The finished structure is ready for quality check and requires no further processing. With a capacity of processing up to 15,000 tons of steel per year, the PeddiAssembler makes the shortage of skilled workers a problem of the past.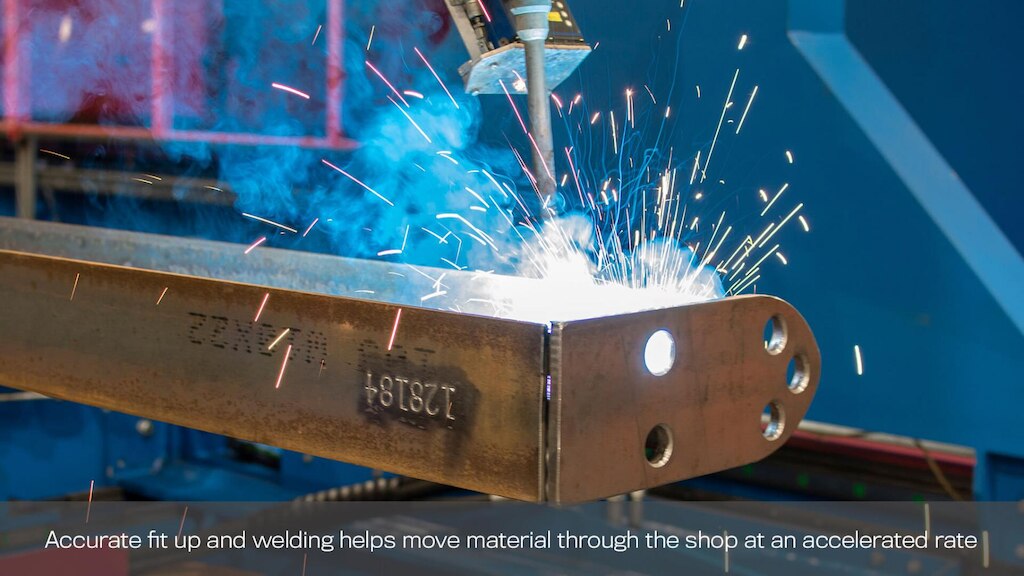 Integration and Evolution
"It all started when we first began to automate." Chet Frizzell, Vice President of Northwest Steel recalls. "I saw a lot of the old things disappear off the shop floor. The first thing was the mag drills with the oil, steel shavings and the cords. There were extension cords everywhere. The other thing was the torches. There were torches and torch leads strung out all over the shop, it's kind of dangerous. All that stuff is gone now and it keeps for a nice clean shop floor. The work areas aren't as hazardous and it reduces on tripping. It's neat to see that transition."
Taking the next step in their automation goals, Northwest Steel purchased their first PeddiAssembler in 2019 and have already reaped multiple benefits. Joshua states, "The PeddiAssembler gives us the opportunity to fit beams, put them in a stack and give them to the welders. And while they're welding, we're able to continue to preassemble beams that are right on the number. Everything is right where it should be, we tack them up and get them over to the welders, and our welders love that. They're not being removed from their job, they're not chasing soapstone lines and they're not flipping beams. They're just doing less work."
Joshua says with utmost excitement, "Every day we talk about becoming more automated, more precision, faster, better. Not to eliminate people but to eliminate man-hours. And that's what automation does is eliminate man-hours. You can do something that would take the same guy longer to do, with more risk or you can automate it. So we're going to continue to automate it and make it the smartest factory we can."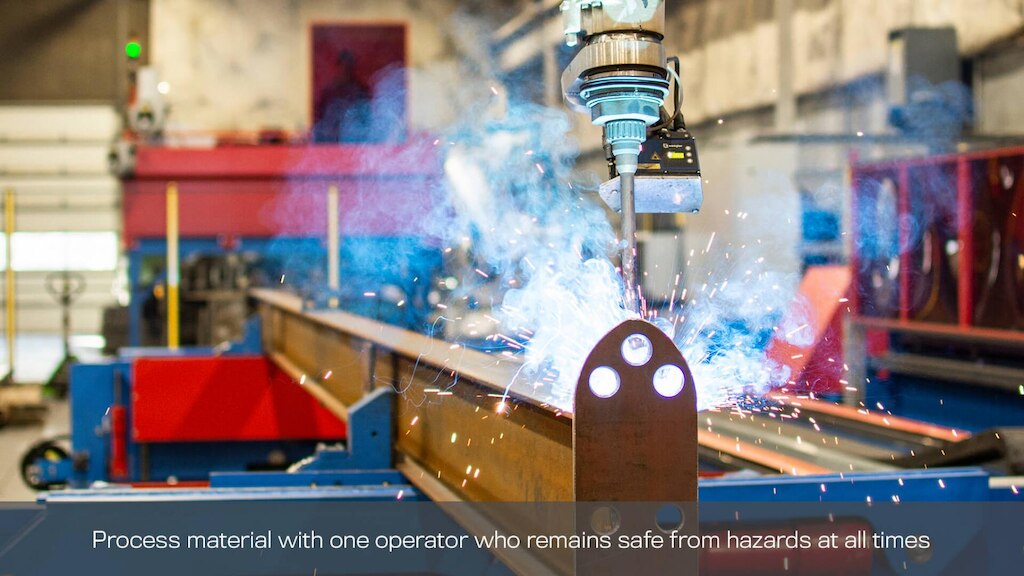 The Future with Peddinghaus and Northwest
Andy James (President), Chet, Joshua and the Northwest Steel Fab team look forward to continuing their reputation as a leader in high-quality fabrication and customer service. By taking risks and embracing new automation technology, Northwest proudly promotes their competitive advantage. Implementing any new piece of machinery can be a difficult and frustrating task.
Chet credits the game-changing Peddinghaus machinery in Northwest Steel's operations. "In this industry every time you touch a piece of material it is costing you money. Our customers are really benefiting from that dead-on accuracy as well. We're human and we make mistakes but the equipment doesn't do that. The PeddiAssembler has given us a much more consistent way of fabricating. You see the successful fabricators and the not so successful fabricators. The ones who keep growing and have great business have automated equipment. You've just got to bite the bullet and get it done, it pays for itself a lot quicker than you think."
To learn more about the PeddiAssembler robotic steel beam assembler, visit www.peddinghaus.com/peddiassembler
Enter Today for a Chance to Win
FREE

Machinery

Gift cards and other Peddinghaus merchandise included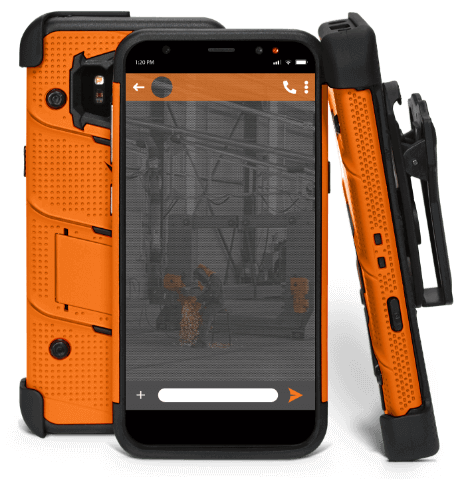 46331 mobile
TEXT KEYWORD
TO
46331
WINNER
Normal text message rates apply. Text "STOP" to opt out. Text "HELP" for help. Up to 3 msgs / month. Terms ‌h‌t‌t‌p‌s‌:‌/‌/‌w‌w‌w‌.‌p‌e‌d‌d‌i‌n‌g‌h‌a‌u‌s‌.‌c‌o‌m‌/‌t‌e‌r‌m‌s‌/‌1‌