Smith Ironworks: Untapped Potential Unlocked
PeddiNews: Issue 66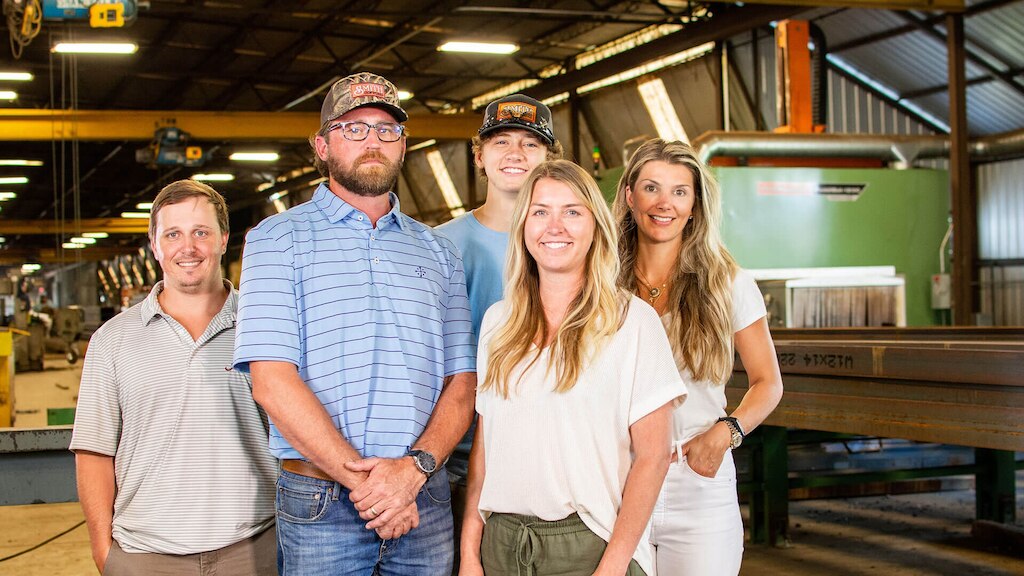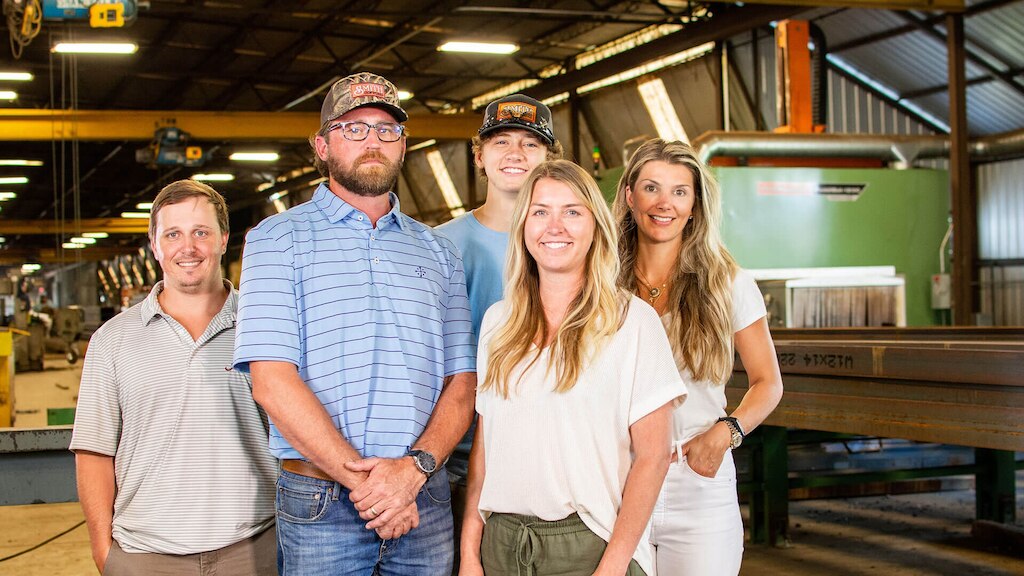 Smith Ironworks is one of the names people call when they want good, quality work. Eddie Smith founded the company in 1994, and by 2014, he decided the time was right to enter the new age of steel fabrication. Alongside Eddie, his daughter and son-in-law, Kelli and Blake Weaver, purchased the company's first CNC machine. The partnership between Smith Ironworks and Peddinghaus all started with an Anglemaster-643.
As the saying goes, you can't always get what you want. With Peddinghaus, you get what you need. Prior to the anglemaster installation at Smith Ironworks, lead times for processing angle and miscellaneous parts on their old shear had hit an all-time high. Immediately after the installation, wait times disappeared and angle throughput skyrocketed. "Our relationship with Peddinghaus has been…interesting. And I mean that in a good way," Blake, VP of Sales and Operations, says with a smile. "When I first started here, I didn't know anything about Peddinghaus. In fact, during our first conversation with Peddinghaus sales, I was told no on the machine I wanted. They didn't try to oversell us on a bigger, more costly machine. From that conversation, I knew we'd have a good working relationship. I trust the advice they give us because now I understand that they want us to be a productive shop."
Since then, Smith Ironworks has installed four more pieces of Peddinghaus machinery - a PeddiBot-1200 robotic thermal processor, Advantage-2 drill line, DG-1250 band saw and a PeddiWriter layout marking machine. Kelli, President/CEO, chimes in, "Last year, we grew in sales from 12 million dollars to 33 million. Halfway through this year, we produced 7,500 tons of steel at 34 million in sales with 6 more months to go. We've achieved this by investing in technology that allows us to facilitate a bigger capacity for growth."
No Joists? No Problem
Smith Ironworks uncovered the hidden potential of the PeddiBot-1200 in 2021 when they were faced with a shortage of joists. A staple of steel construction, joists play a critical role in supporting the concentrated loads of a building. Without main member support, heavy constructions cannot be completed. Kelli and Blake combined their knowledge of structural steel fabrication and came up with a solution to their shortage crisis - castellated beams to replace joists.
Castellated beams are created by cutting a repeating pattern of hexagonal holes along the web. The objective is to use the cutting pattern to split and re-connect the beam to increase its strength without adding more material or weight. Luckily, the PeddiBot-1200 is a perfect fit for shops running castellated beams like Smith Ironworks. Kelli explains, "We've been running castellated beams that have allowed us to replace joists in our projects and speed up our schedules. You used to see castellated beams a lot, but then joist manufacturers got more productive and more popular over the years. Because of the joist shortage we're facing now, companies like us would have project delays waiting on joists we couldn't get. Those unique parts helped justify our investment in the PeddiBot-1200 because no other machine in our shop has the ability to process castellated beams."
Man Hours Slashed in Half
Since its installation, the PeddiBot-1200 has been processing much more than castellated beams. Just when the Smith team thinks they have mastered the art of the machine, they find more capabilities and untapped functionality. Blake affirms, "The PeddiBot-1200 has been lights out since we got it. Anything we need done with precision is now routed directly to that machine. We get a lot of work with castellated beams, heavy moment connections, web holes and bevels. Because it can cut, mark, slot, bevel and process holes, we made it its own heartbeat in the shop."
He continues, "The PeddiBot-1200 has improved our production in more ways than one. Our throughput has increased, our fitters aren't as overworked as they were before, we've got a cleaner product, they don't have to grind, we're just more efficient with our shop time now. All you have to do is say the word "robot" and the customers get excited. When I get customers to come visit the shop and see the technology we have, they see how capable we are of doing their jobs and in return, we get a lot of repeat business."
The whole idea of robotic technology often comes with some level of intimidation and hesitancy from shop employees. Kelli quickly learned how user-friendly software is the key to increasing confidence around new technology. "The simplicity of the Peddinghaus equipment has helped our shop and our people evolve by showing them what they're capable of. They have realized they have a higher capacity to learn new technology than they thought. Now they know they CAN operate a robot, not just weld or fit."
As employee confidence increased, production soon followed. "The first big project we ran on the PeddiBot-1200 was the 100 Talcott building in Boston, Massachusetts. We were hired to beef up a mezzanine inside the existing warehouse. There were over 80 moment connections and beveled plates. The manhours we had originally allocated to that job were cut in half with the PeddiBot-1200."
Trust the 6-Step Process
Complementing their PeddiBot-1200 lies a new Advantage-2/DG-1250/PeddiWriter drill/saw/layout system. Before purchasing this system, Smith Ironworks had a 13-step process to get a piece of steel in and out of the shop. With the help of Peddinghaus' layout engineering team, they simplified the existing layout to take that 13-step process down to a 6-step process.
According to Blake, profitability has gone up because manhours have gone down, "Our shop is half new and half old. We started off in an old building built back in the 70s and added a functional bay in the 2000s, so we refer to the shop as the "old" side and the "new" side. On the old side, we have our Anglemaster-643, PeddiBot-1200, fitters, welders, paint and load out. On the new side, we have our new Advantage-2/DG-1250/PeddiWriter drill/saw/layout marking system."
"Of all our Peddinghaus equipment, the drill/saw/layout marking system makes us the most money. With the old drill system in place, we ran around 200 tons a month. With the new process and the amount of time it saves, we're now producing around 1,000 tons a month on that system."
Kelli backs the notion, "No doubt the Advantage-2/DG-1250/PeddiWriter system is the standout technology in our shop. It allowed us to double our steel production. The PeddiWriter alone speeds up fabrication time for our fitters and welders with its ability to lay out piece marks. They're not spending all their time measuring and double-checking anymore. If our best fitters are out sick or on vacation, I'm always confident we can still get the job done with the PeddiWriter."
A Dynamic Duo
The defining moment for Smith Ironworks was when Kelli and Blake recognized the company's potential for growth and made a commitment to creating a successful establishment as husband and wife. Kelli put it best, "The company changed for the better when Blake and I joined the business. When I took over for my dad we only had about 12 employees. Since then, it's been all about building the business and now we're bigger than we've ever been. We have 55 employees at the Lyerly shop and 5 employees at our location in Atlanta, most of whom have been with us for more than 10 years. We try our best to make sure everyone that works with us feels like a part of our family."
Blake eagerly looks forward to he and Kelli's future at Smith Ironworks and the arrival of their next phase of Peddinghaus equipment. "My wife and I's goal has been and always will be to grow the business. We took Smith Ironworks from a family company to a distinguished family corporation. We've recently invested in more property for office space, laydown space and a miscellaneous shop. With a Peddinghaus HSFDB-C plate processor on the way, we've got big plans coming down the pipeline."
Enter Today for a Chance to Win
FREE

Machinery

Gift cards and other Peddinghaus merchandise included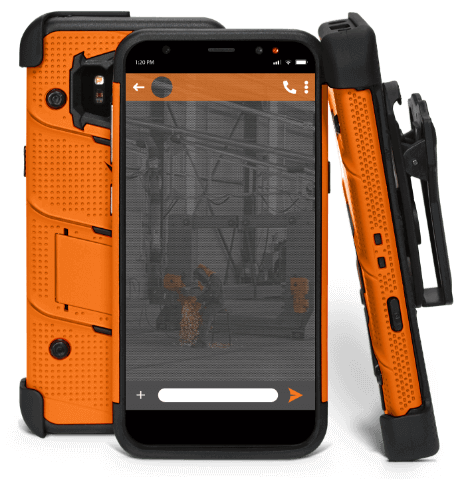 46331 mobile
TEXT KEYWORD
TO
46331
WINNER
Normal text message rates apply. Text "STOP" to opt out. Text "HELP" for help. Up to 3 msgs / month. Terms ‌h‌t‌t‌p‌s‌:‌/‌/‌w‌w‌w‌.‌p‌e‌d‌d‌i‌n‌g‌h‌a‌u‌s‌.‌c‌o‌m‌/‌t‌e‌r‌m‌s‌/‌1‌