Suwannee Iron Works: No Steel Ceilings
PeddiNews: Issue 68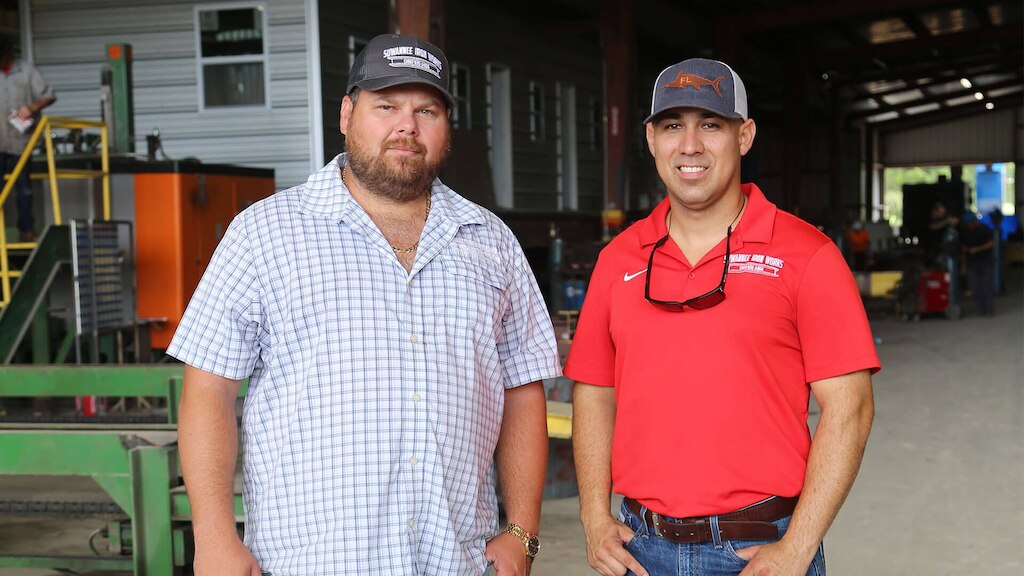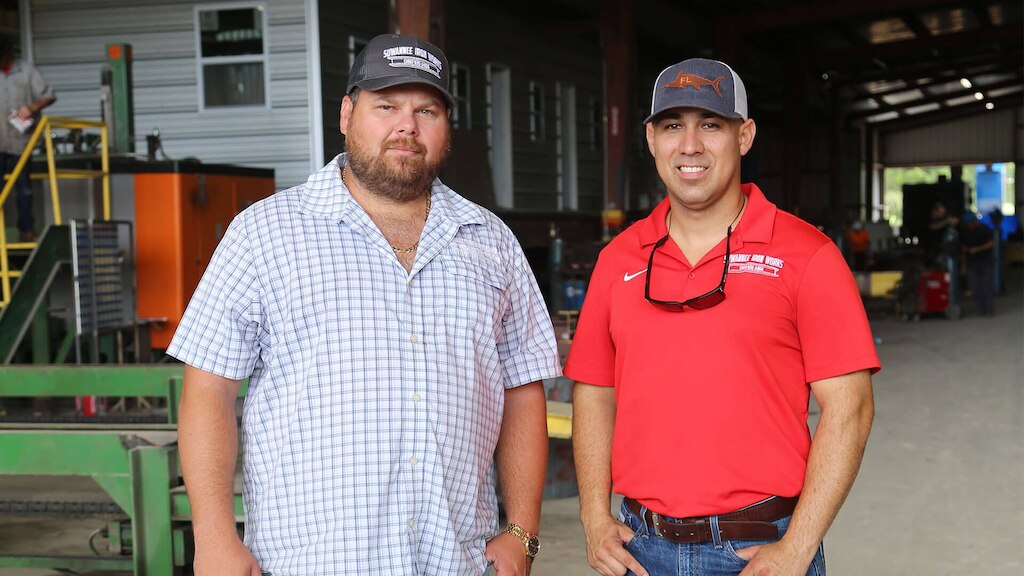 In the heart of the fabrication industry, Suwannee Iron Works stands tall as a testament to hard work and the power of cutting-edge technology. Founded in 2007 by Ernie Caparelli and his brother, Sem Caparelli, the company has flourished into an industry leader under their guidance. The rapid growth of Suwannee has been nothing short of astounding, especially in the last two years, when they embraced the transformative power of Peddinghaus machinery.
Ernie and Sem's journey in fabrication began at an early age, working alongside their father as kids and establishing Suwannee Iron Works as adults. Initially, the company started out as a fencing and structural steel erecting company, but their ambition and the demands of their clientele paved the way for expansion into various sectors, including commercial, industrial, light structural, heavy structural and miscellaneous projects, such as stairs and rails.
From Fully Manual to Fully Automated
The introduction of Peddinghaus equipment in 2021, starting with an Advantage-2 drill line and DG-1250 band saw tandem system, marked a turning point for Suwannee. Not only did the new system more than triple their production, but also catapulted them out of the stone age of using mag drills and hand torches.
Ernie vividly recalls the magnitude of Suwannee's progress, "We went from producing 20 tons per week to over 800 tons per week. The Peddinghaus system has saved us a tremendous amount of manhours on all of our jobs. The delivery schedule is very critical to our customers, and we can produce a better product so much faster now than we could doing it by hand."
COO of Suwannee Iron Works, Adan Macias, who played an instrumental role in the acquisition of the Peddinghaus drill/saw line adds, "When we brought in the first Peddinghaus system, it was a total game changer. We went from fabbing everything by hand to upping our production by three times what we were doing before."
Adan praises the speed of the new drill line, "What I like most about the Advantage-2 is being able to drill a hole in a matter of seconds. It used to take us at least 5 minutes to do each hole by hand. Now, we're always 1/16" (1 mm) within our specification tolerances. It's been critical for the large floor beams we have been producing for Amazon warehouses."
With production tripled and output capacity soaring, Suwannee's growth allowed them to take on more ambitious projects, including record 15,000+ ton ventures. From their initial investment of the Advantage-2 drill line and DG-1250 band saw, Suwannee continued to embrace new Peddinghaus equipment, advancing to an Ocean Liberator coper and PeddiWriter layout marking machine the following year.
Suwannee so successfully expanded their operations with the support and guidance of the Peddinghaus team. "Peddinghaus came in, helped us layout our shop and helped us select the right equipment for the size of our facility. They were determined to find out what kind of growth we were looking for to make sure we had no limitations at this company," Ernie emphasizes, underscoring the importance of the partnership.
Shifting Gears
In the early stages of their research, before investing in Peddinghaus, Suwannee experimented with competitor machines as they sought cost-effective solutions for their fabrication needs. While these machines seemed like a reasonable choice at first, it became evident that they were unable to keep up with Suwannee's rapidly growing production goals. The limitations of the competitor machines started to delay the company's progress, leading to more bottlenecks and lower throughput rates.
Recognizing the need for a more robust and reliable solution, Suwannee embarked on a quest to find the best machinery on the market. It was during this search that they encountered Peddinghaus, a renowned name in the steel fabrication industry. "Whenever I would visit a large shop, all they ever had was this green and orange equipment," Ernie recalls. "I've always wanted to be like those guys, and that's when I realized I could only become one of those guys if I made the switch to Peddinghaus."
After a few shop tours and discussions, it became apparent to Suwannee that Peddinghaus offered a level of excellence the competition simply could not match. This was no small decision for Suwannee, as it came with a larger price tag. Ernie candidly admits, "I used to think Peddinghaus was overpriced. I almost had a heart attack when they handed me the quote for the new machinery, but I gave them an opportunity anyway."
"We purchased the competitor machines first because they were much cheaper than Peddinghaus, but they couldn't keep up. Peddinghaus told us that their drill/saw system would outperform everybody in the business, and they did not lie. That system was dramatically faster and more productive from day one. Our decision to make the switch was instantly validated when we saw that the benefits far outweighed the initial investment."
No Fit-Up Necessary With the PeddiWriter
Suwannee's most recent acquisition from Peddinghaus has brought a new level of efficiency to the most time-consuming part of the fabrication process - fitting and welding. The PeddiWriter's ability to efficiently lay out beams has dramatically streamlined their workflow, so welders can confidently perform their tasks knowing that every weld location is accurately marked and that the risk of errors in the field is significantly reduced.
"The PeddiWriter lays out every beam that comes through our shop. It is so fast and productive, we had to hire more welders to be able to keep up with the PeddiWriter's layouts. We know we don't have to worry about fit-up errors in the field because we can trust that machine to correctly mark out each weld location 100% of the time," Ernie proudly states.
Adan notes, "The PeddiWriter's precision layouts have made our welder's jobs easier. With the machine taking charge of laying out every piece that comes through the shop, the team can focus solely on welding. The PeddiWriter has already laid out the beam for them, so now they can just lay down a weld and progress from one piece to another without the need for measuring or fitting."
Stepping Into the Future
"We are a very young company with many years left to go, and we'd like to be one of the largest fabricators in the world someday," Ernie shares. To achieve this goal, Suwannee is actively working toward a 60,000-sq-ft (5,574-sq-M) expansion directly next door to their current shop, creating a second shop. Adan explains, "This is all going to come to light using Peddinghaus equipment. We're going to reconfigure our existing layout to become a two-bay shop, speeding up our operation by five times."
Suwannee's story serves as an inspiration to others in the steel fabrication industry, demonstrating the incredible impact that embracing advanced technology can have on a company's growth and success. As the industry continues to evolve, Suwannee's dedication to excellence will undoubtedly keep them at the forefront for years to come.
Enter Today for a Chance to Win
FREE

Machinery

Gift cards and other Peddinghaus merchandise included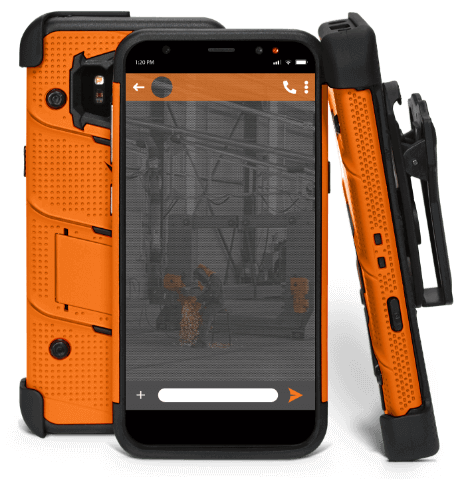 46331 mobile
TEXT KEYWORD
TO
46331
WINNER
Normal text message rates apply. Text "STOP" to opt out. Text "HELP" for help. Up to 3 msgs / month. Terms ‌h‌t‌t‌p‌s‌:‌/‌/‌w‌w‌w‌.‌p‌e‌d‌d‌i‌n‌g‌h‌a‌u‌s‌.‌c‌o‌m‌/‌t‌e‌r‌m‌s‌/‌1‌