Cooper Steel: Triple the Factories, Triple the Success
PeddiNews: Issue 67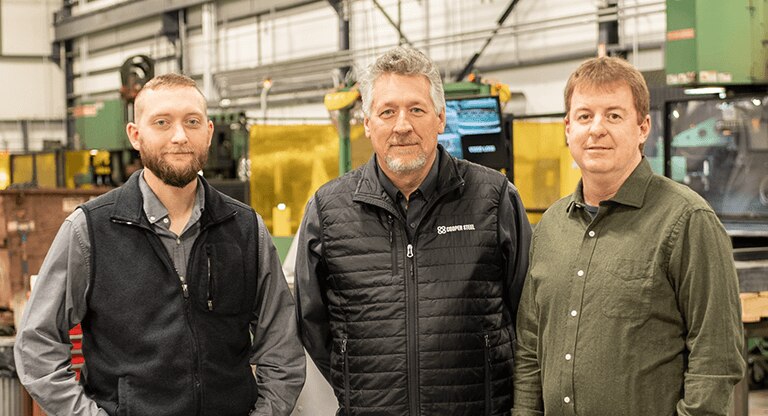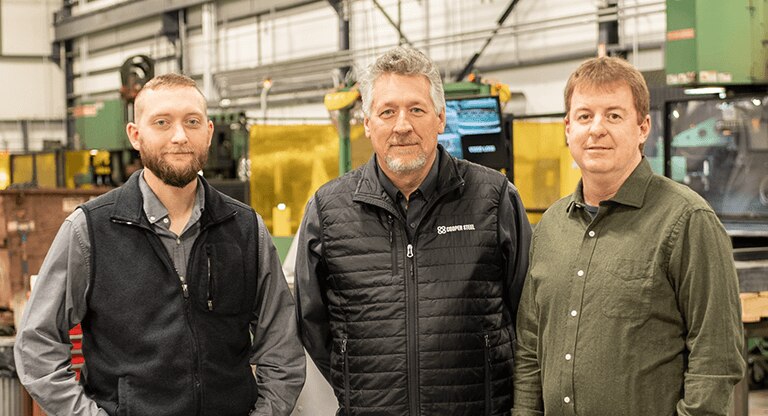 While working in the maintenance department at a local tire plant in 1960, J. Kenneth ("Kenny") Cooper began welding out of the back of his truck on the side. It didn't take long to recognize the demand for his service and the business potential of his hobby. With more than enough of a market for small welded constructions in the Shelbyville area, Kenny upgraded his side gig to an operation now well-known in the steel industry as Cooper Steel. Kenny's business remained primarily local through the 1960s and 70s, erecting buildings nearby and functioning as a small structural miscellaneous fabrication shop. Kenny, together with his wife Faye and son Gary, decided to build a larger facility across town in 1989.
In 1990, Rodney Harden began his career with Cooper Steel. He has since had the pleasure of growing with the Company and holding many positions, including Plant Manager in 2002 and the company's first VP of Plant Operations in 2018. "In 2017, Cooper Steel wanted to expand so we bought another plant, Cooper Steel of Virginia. It was my job to show them how we do things in Shelbyville," Rodney tells us. "After our success, we decided to do it all over again in 2019 and that's when we bought Cooper Steel South in Alabama. Both times we expanded, the new plants doubled in employees and production in just two years."
How do three factories spread across three states find a way to collaborate on projects so efficiently? According to Clint McCullough, Plant Manager at Cooper Steel Shelbyville, "Our three factories work so well together because we stay in close communication with each other. The collaboration effort starts on day one of selling a job. We decide if it will be assigned to one shop or if we are going to split it up. At times, all shops may be running the same project."
All three Cooper Steel shops share a common goal of producing a high-quality product that is consistent from shop to shop. To maintain total control of their product, they've established a similar line of machinery at each facility.
Fabrication Systems Perfected
Clint explains, "We've tried to model the rest of our locations after Shelbyville because we have worked very hard here to refine our processes, and we know what works for us."
After seeing the accuracy and speed of the first Peddinghaus drill line installed at Shelbyville in 2002, Cooper Steel purchased a BDL-1250/9B that doubled their production. Rodney reports, "I've got a soft side for the BDL because it can process anything and made me realize just how productive the technology could be for our company."
Clint chimes in, "Just in the last 5 years at Shelbyville, we've increased production by 40% with all the new Peddinghaus equipment. The PeddiRotators have been a huge help with large columns with a lot of welding. Our crane usage is much lower now because we don't have to use two overhead cranes to lift a larger member. The whole process is a lot faster and a lot safer."
Detail Processing Center Doubles Processing
In the fall of 2021, the main plant became tight on floor space. The team acknowledged that any little bit of room helps and that any type of real estate they have to work with is critical. That's when they came up with the brilliant idea of moving detail production to the fabrication shop that Kenny originally founded. By the summer of 2022, Cooper Steel renovated the entire original building, moved machinery in and moved forward with the purchase of a new HSFDB-C plate processor. "When we maxed out capacity on the HSFDB-B, we were having to outsource a good portion of our plate work. Beveling heavy plate by hand with a track torch requires a lot more material handling," declares Caleb Christa, Production Manager at the Cooper Steel Shelbyville detail processing center.
"This shop is designated for detail material processing, so anything to do with heavy plate and angle cutting, small saw work, tubes, channels and any small material happens here," says Caleb. "With the new equipment we have over here, we've doubled our plate production. Not only have we been able to provide all plate detail to the other Cooper Steel plants, but with the added capacity, we can also supply multiple sub fabricators to help them out as needed." He adds, "With the ergonomics of the dump table and conveyor belt, we have very little material handling time and we're able to count and mark our parts per row versus an entire sheet. We keep scrap to a minimum using the Peddinghaus plate processors by utilizing the common line cutting on the nest."
Across the board, angle size requirements are getting larger and larger. Before Cooper Steel's purchase of the Anglemaster-HD, the only way for the detail shop to process 8" (200 mm) angle was to cut it on a saw and punch it by hand. This much-needed purchase keeps manual interaction to a minimum. "Now that we're able to handle the heavier sizes that we're seeing more often, we're able to help other shops with the heavier sizes that they don't have the capacity for," Caleb mentions. "The quality of the parts that come off the Anglemaster-HD are phenomenal."
Expand and Repeat
In 2017, Cooper Steel went to Virginia looking for growth and market expansion to the East Coast and Cooper Steel of Virginia was opened. Two years later, Cooper Steel South took shape in Alabama. Jeremy Duke, Plant Manager of Cooper Steel South, states "Before, we only had one drill and one saw. Production increased right off the bat with each Peddinghaus machine install. Bringing in each machine has allowed us to expand our capabilities with manpower."
Right now, there's no end in sight to the construction of data centers, distribution centers and large-scale warehouses. These projects keep the shops busy, allowing them to specialize in fast-paced beam and column production. Currently, all three Cooper Steel shops are running truss cords for an automobile assembly facility, which means they'll get the job done three times as fast as your average fabricator.
"We're on conference calls constantly to see how each shop is running the job and how we can all help each other run it in the best and most efficient way. Then comes the fun part, the internal battle of who's the faster shop," Andrew Anderson, Plant Manager at Cooper Steel of Virginia, says with a smile.
Partnerships Make Us Prosper
Rodney signs off, "In our business, partnerships and relationships are everything. We get most of our work from certain general contractors that know they can trust Cooper Steel the same way we know we can trust Peddinghaus."
"We're working hard for our customers and adding to our team of top-notch employees and management every day. The future is bright at Cooper Steel."
Enter Today for a Chance to Win
FREE

Machinery

Gift cards and other Peddinghaus merchandise included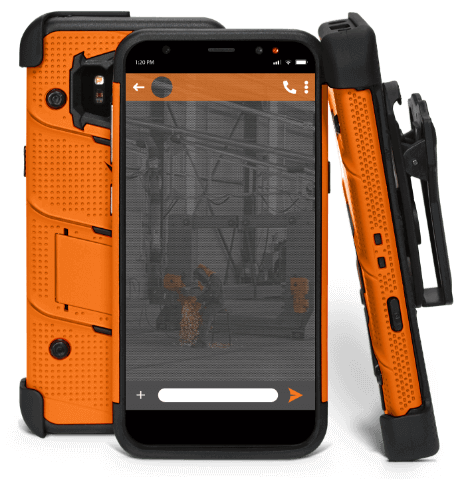 46331 mobile
TEXT KEYWORD
TO
46331
WINNER
Normal text message rates apply. Text "STOP" to opt out. Text "HELP" for help. Up to 3 msgs / month. Terms ‌h‌t‌t‌p‌s‌:‌/‌/‌w‌w‌w‌.‌p‌e‌d‌d‌i‌n‌g‌h‌a‌u‌s‌.‌c‌o‌m‌/‌t‌e‌r‌m‌s‌/‌1‌